Learn How to Increase Profitability and Market Share at the MarshBerry 360 Forums
MarshBerry 360 Forum helps decision-makers increase growth and profit with strategies designed to meet the challenges of today and tomorrow.
March 29, 2022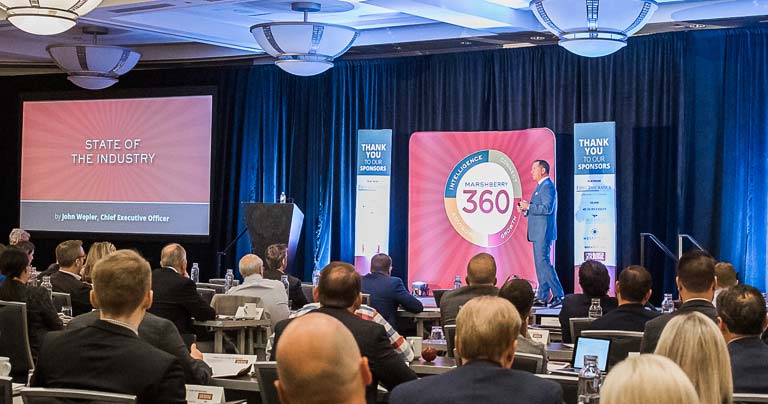 MarshBerry, a leading investment banking and consulting firm serving the Insurance Distribution and Wealth Management industries, announced open registration for the annual MarshBerry 360 Forums coming this May to New York City, Chicago, and Las Vegas.
This annual conference brings insurance executives, leaders, and experts together for a day of learning, collaboration, and networking, focused on insights and strategies for revenue, profit, and firm growth.
The MarshBerry 360 Forums
May 10: New York City
May 12: Chicago
May 19: Las Vegas
Led by MarshBerry CEO John Wepler, the 360 Forums will feature interactive discussion panels and presentations covering topics relevant to firms and independent operators alike. Attendees will gain access to the latest proprietary research, insights into current market trends, and expert advice on what actions to take now to ensure long-term success.
Learn how to thrive in 2022's dynamic insurance market with sessions on organic growth strategies, mergers and acquisitions, and hiring and retaining top-performing talent. Guests will enjoy dedicated networking time with MarshBerry experts, presenters, and fellow invitees to build valuable connections.
"The MarshBerry 360 Forum is an opportunity for insurance professionals in every facet of the industry to gather, share knowledge, and build relationships necessary to achieve long-term goals," said Phil Trem, President of MarshBerry's Financial Advisory. "The information we present is vital, but what excites guests the most is how many ideas and new strategies they have ready to implement at the end."
Register early to reserve your space at the MarshBerry 360 Forums. Visit our website for more details at www.MarshBerry.com/360.