FirstChoice
THE PREMIER NETWORK FOR INDEPENDENT AGENCIES
FirstChoice Growth Solutions for Agencies of Any Size
THE ONLY CHOICE FOR GROWTH MINDED AGENCIES
FirstChoice, a MarshBerry Company, caters to insurance agency owners who prioritize talent investment, embrace challenging decision-making, want to develop and work toward a strategic plan, and applies agility and empowerment. FirstChoice offers growth solutions tailored for agencies of all sizes.
---
INTENTIONALLY DESIGNED TO REINFORCE SUSTAINABLE GROWTH AND ENHANCE REVENUE
Is FirstChoice right for you?
If your agency is focused on organic growth, striving to optimize efficiencies, and motivated to grow at double digits, then joining FirstChoice should be your next move. As a member, you'll be among the best and brightest like-minded agencies who leverage proven strategies, access resources to improve operations and stay competitive in the market.
What makes FirstChoice different?
FirstChoice is your strategic ally to help you build an effective plan for growth. This goes well beyond carrier compensation and market access. It's about helping your agency create a path forward through strategic planning, technology resources, marketing tools, education and training, and more to build your business. Reach out to our team today to learn more about the FirstChoice.
---
FirstChoice Named the #1 Top Agency Partner
Recognized as the #1 top agency partner by Insurance Journal, FirstChoice enables members to drive differentiation, leverage the benefits of both scope and scale, and harness resources and capabilities to maximize growth for their firm.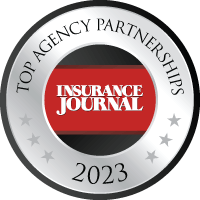 ---
FIRSTCHOICE MEMBER-ONLY ANNUAL CONFERENCE
FirstChoice members gather for a 3-day annual conference to gain insights on the latest issues and trends from industry leaders, and garner key takeaways on topics including strategic planning, strategy development, talent management and how to better leverage technology to accelerate organic growth for their agencies. Learn More.
Membership includes:
No non-competes
No right of first refusal
Favorable exit terms
No monthly reporting requirement
Remain independent
A couple of years ago, I had a fellow insurance agent invite me to a meeting with FirstChoice. Never heard of an aggregator before. Well joining FirstChoice has been one of the best moves I've made in my insurance career. They are professional, resourceful, knowledgeable and the insurance industry and happy to help. Terrific resource in the Independent arena. Kudos to FirstChoice!
They are definitely the right fit for me. I had no idea how to be an independent agent. I had been an exclusive agent for over 25 years and was very nervous about the transition. FirstChoice staff were fantastic! They didn't push, they didn't try to manipulate. They simply answered my many questions in patient and truthful manners.
Joining FirstChoice is one of the best decisions I have made for my Agency! Their Risk Placement Team is exceptional. Quotes are turned around very quickly.
I'm not sure where we'd be without them. All the staff have been a vital part of the success of Ridpath Insurance since our conversion to independence. I'm not sure where we'd be without them. They get 5 stars in my book. Thanks guys for all you do for us!
They truly understand that your success is their success. There are many aggregators to choose from. Hands down FirstChoice is the best! The leadership team is second to none. Not only do they have the skills to help you succeed, they made a point of being accessible.
FirstChoice is a fabulous organization that has helped us leverage our carrier exposure! They provide support that you cannot find elsewhere; agency management, technology, carrier training and so much more! So much value in this partnership.
FirstChoice has made the transition to independence so much smoother. FirstChoice has made the transition to independence so much smoother than it would have been on our own. The agency can approach decisions with confidence knowing that we have leverage of FirstChoice behind us, resource to evaluate options that are best for the agency, with the ability to access markets as needs arise and to eventually create our preferred lineup of carrier partners that align with our strategy. We are proud to be a member.
Our agency has grown since becoming a member. Being a part of this organization through the Independent changes we've dealt with has been extremely beneficial. Their entire team of individuals, resources, carrier options and agents involved are first class. Our Agency has grown since becoming a member and we look forward to what the future holds.
I cannot imagine not being a member. I have been a member of FirstChoice for about three years. I cannot imagine not being a member. From additional revenue opportunities to camaraderie with fellow agents and more opportunities to win business, FirstChoice is the only choice.
Great to work with and VERY profitable. Signing up with FirstChoice stand out as one of the best decisions I made since going independent. Great to work with and VERY profitable.
CONTACT THE FIRSTCHOICE TEAM
The FirstChoice team brings unparalleled industry expertise in helping insurance agencies not only navigate the complexity of carrier and strategic partner relationships, but also accelerate growth. As a member, your agency benefits from proprietary industry data, education and guidance on creating a path forward, resources to help you build your business, as well as a vast network of partners. Let's start the conversation.