One of the insurance industry's biggest challenges is the increasing technology disruption which presents a unique opportunity for both incumbents and new players. The transformation of the industry has progressed significantly to date. However, further innovation is inevitable with record amounts of funding continuing to pour into the sector, reaching near-record levels in 2020 despite the global financial impact from COVID-19.
Funding activity in InsurTech has significantly increased in recent years. Specifically, global investment in InsurTech hit an impressive $2B in the first quarter of 2021 up from $1B in the first quarter of 2020.
In 2020, global deal activity was materially impacted in the first half of the year, largely driven by COVID-19 and global lockdowns. In the second half of the year, deal activity rebounded, both from a count and size perspective, which resulted in 2020 having a total of $7B of capital invested in the InsurTech sector.
Average deal valuations have increased significantly over the past couple of years demonstrating an increasing maturity of the industry.
There's a global appetite for InsurTech investments, showcasing the prospective growth and expansion of the space.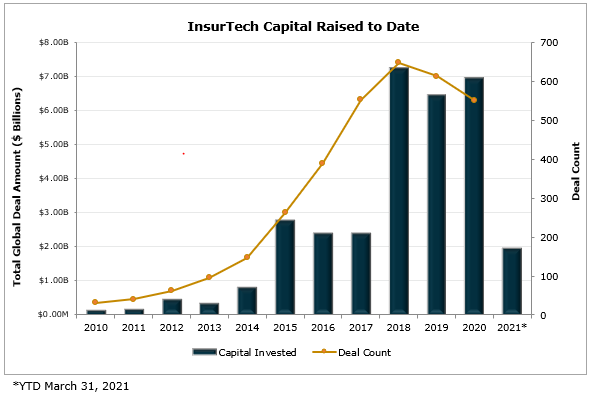 Acquisitions of technology are a way for incumbents to remain competitive. Because technology is a centerpiece of a broker in the 21st century, insurance brokers of all sizes may want to have a plan to address the growing competition from within the insurance industry. Large players have the scale to pursue aggressive acquisition strategies and the resources to invest significantly in technology. A significant number of synergies can be realized across the entire ecosystem.
With the acquisitions of CoverWallet by Aon plc (Aon) in January of 2020 and CoverHound by Brown & Brown, Inc. (BRO) in November 2020 two leading national insurance brokers are advancing their digital transformation, which will allow them to service small accounts more efficiently while simultaneously enhancing customer experience. Both CoverWallet, which was founded in 2015 and raised about $30 million, and CoverHound, which was founded in 2010 and raised about $110 million, are reputable and established InsurTech platforms.
While there are significant synergies and value to be realized from the transactions, which led to both firms receiving premium valuations, the deals may indicate that the existing distribution channels are more difficult to disrupt than anticipated. By joining Aon and BRO, both CoverWallet and CoverHound gain access to greater resources, including an established distribution network, access to additional markets as well as insurance expertise, which will allow them to accelerate their growth.
In an increasingly digitized world, these transactions show that incumbent insurance players can gain access to national digital insurance distribution platforms with just a single acquisition.
Currently, a significant proportion of InsurTech firms are focused on the personal lines segment given the size of the market and less complex nature of insurance products, giving commercial lines brokers more time to enhance their technological infrastructure to become competitive. The objective should be for insurance brokers to focus their human capital on larger, more complex accounts, while working to automate others.
With funding activity likely to accelerate, driven by successful recent IPOs (e.g. Lemonade) and an abundance of capital, existing players will be forced to implement new technologies.
As the world progresses further into the New Information Age, the insurance sector will find itself susceptible to widescale and major technological disruption. Stay tuned.
If you have questions about Today's ViewPoint, or would like to learn more about the implications of InsurTech in the insurance industry, email or call Tobias Milchereit, Vice President, at 212.972.4883, or email or call Ravin Rijhsinghani, Associate, at 212.972.4882.
Subscribe to MarshBerry's Today's ViewPoint blog for the latest news and updates and follow us on social media.
---
Sources: PitchBook; Willis Towers Watson Public Limited Company
MarshBerry continues to be the #1 sell side advisor in the industry (as ranked by S&P Global). If you're considering selling your firm, we are the best choice to help you through the complicated process. If you don't hire MarshBerry, hire a reputable advisor that can help you navigate one of the most important business decisions you will ever make. You will be much better off having an advisor in your corner that knows the industry than trying to do this on your own.