The deal activity in Q3 2021 was the second most active quarter we have ever seen, falling short to only the fourth quarter of 2020. Activity is being driven by seller concerns over potential federal capital gains rate changes and the broader investment community pushing to find investments in the insurance industry. Deals are closing at a record pace and Q4 2021 is expected set a record for transactions in a three month period.
There have been 534 publicly announced merger & acquisition (M&A) transactions in the U.S so far in 2021. Total announced transactions in the U.S. have increased by 22.5% compared to this time last year. A robust backlog of transactions, and announcements from earlier in the year, are expected to further widen this gap as the end of the year approaches.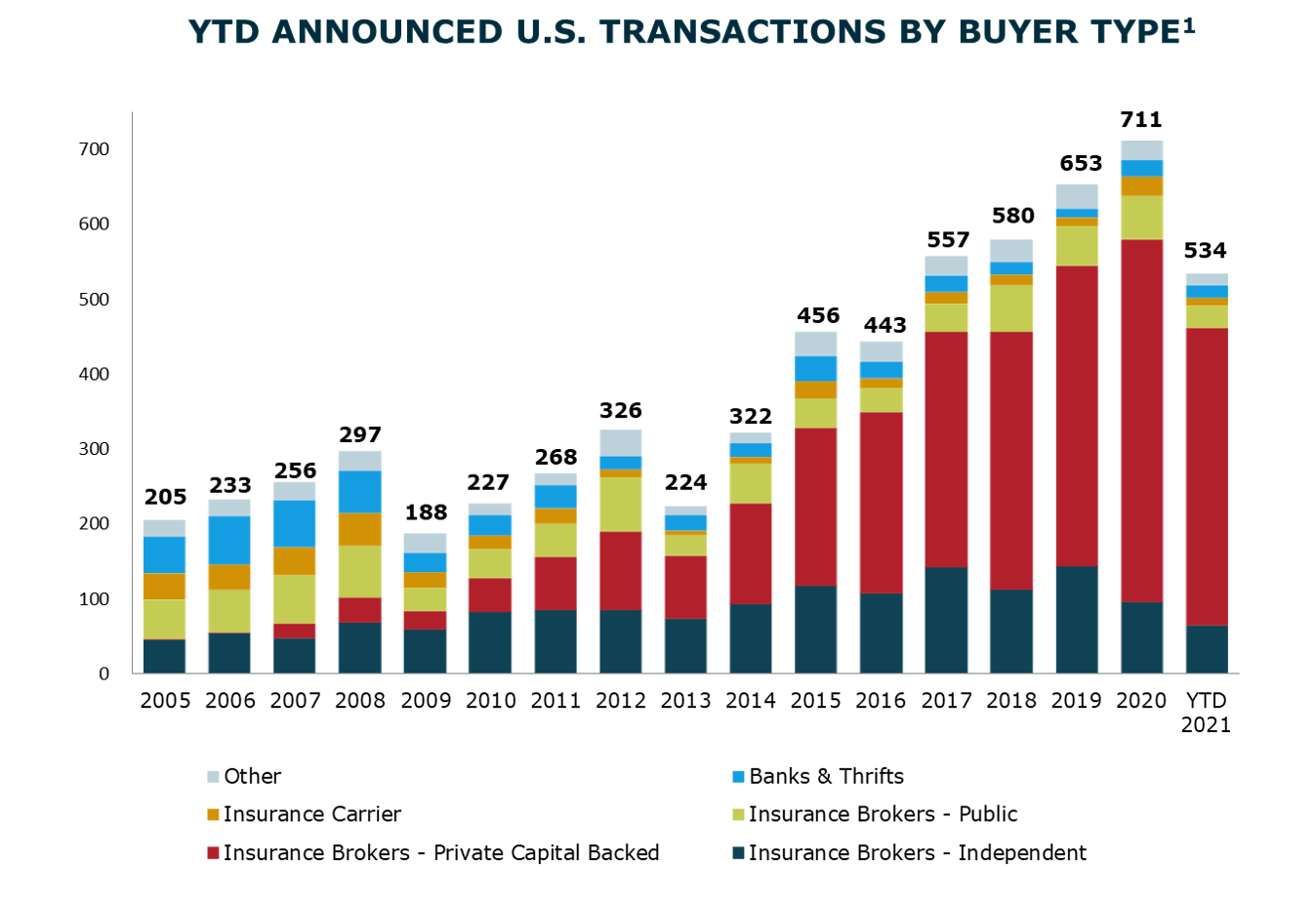 Private capital backed buyers accounted for 397 of the 534 transactions (74.3%) through September, while independent firms have held steady at 12.2% of the total deal count. The activity of independent firms is consistent with last year in terms of percentage of the total number of transactions. However, there has been an overall decrease in activity by this buyer segment since 2019.
Deals involving specialty distributors have also seen an increased presence in 2021. The 108 specialty transactions through September represents a 40.3% increase compared to this time last year.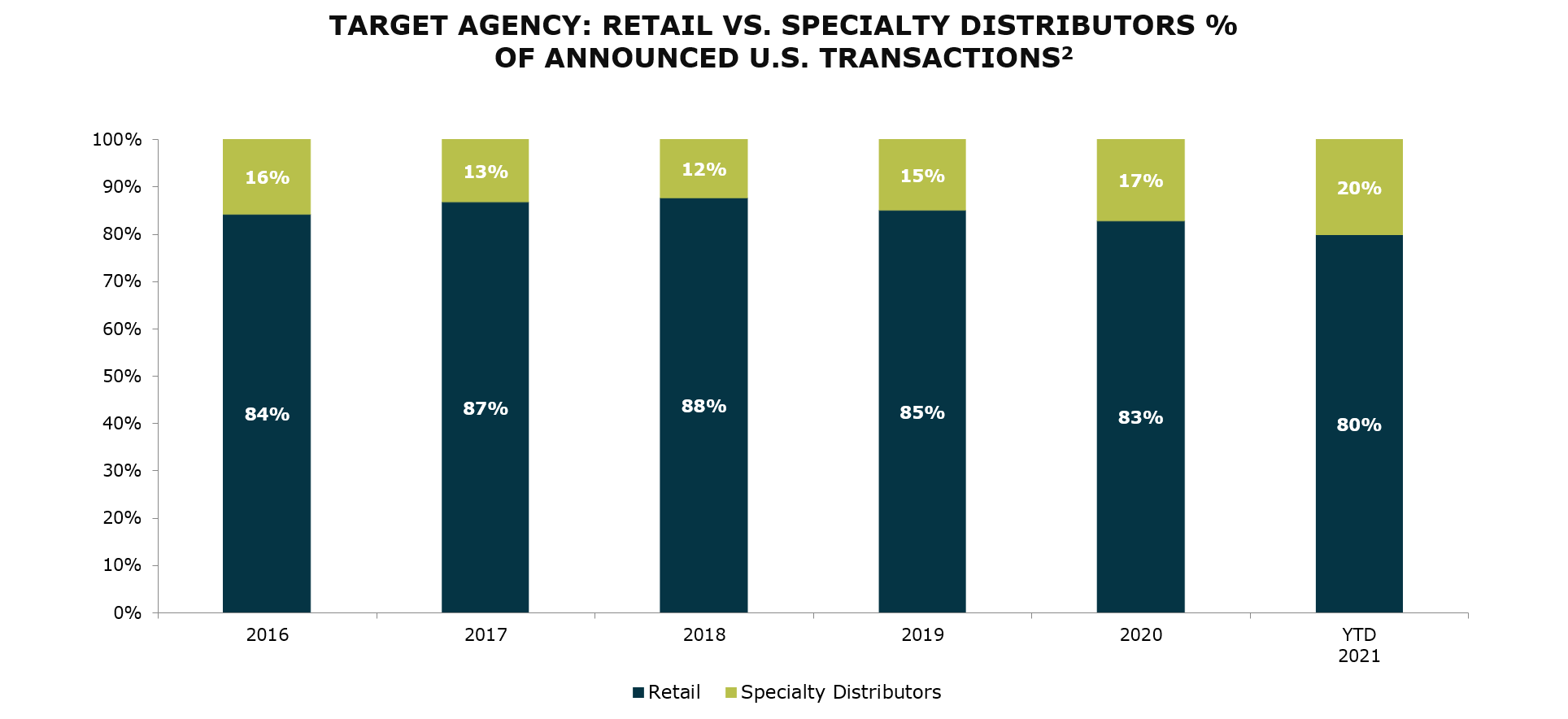 Peter C. Foy & Associates Insurance Services, LLC, Acrisure, LLC, and Integrity Marketing Group, LLC are the top three most active buyers in the U.S. in 2021 – totaling a combined 20.2% of the 534 total transactions. The top 10 most active buyers completed 266 of the 534 announced transactions (49.8% of total).
On September 13, 2021, the Ways & Means committee announced its tax proposal that is targeting the top marginal rate on individuals, the top corporate tax rate, and potential changes to capital gains. The end result of this proposal remains to be seen but the conversation around its implications has remained at the forefront. Although nothing is set in stone, Congress will have the industry's full attention until a plan is finalized.
Deal flow activity is not anticipated to dry up following this year's crunch due to tax changes. Excess capital and high demand will continue to be catalysts for continued activity.
Two notable recent transactions for which MarshBerry served as the sell side financial advisor include:
September 13: BRP Group, Inc. (BRP) announced it signed a definitive agreement to acquire substantially all of the assets of Jacobson, Goldfarb & Scott, Inc. (JGS). Based in Holmdel, NJ, JGS is a specialty insurance broker and managing general agent primarily focused on providing commercial insurance services to middle-market clients across the country. With annual revenue of approximately $43.3M, JGS has a keen focus on offering complex and differentiated coverages in the construction and habitational real estate industries.
September 21: GI Partners announced the recapitalization of Patriot Growth Insurance Services, LLC ("Patriot"). Summit Partners, which originally invested in Patriot in 2019, as well as Patriot management will retain significant minority ownership positions in the company. Patriot was formed in 2019, and in its second year of operation was ranked in the top-40 largest insurance brokers in the U.S by Business Insurance. The transaction is expected to close in the fourth quarter of 2021.
Click here to view all of MarshBerry's publicly announced transactions completed year-to-date.
If you have questions about Today's ViewPoint or would like to learn more about how firms are looking differently at M&A activity, please email or call Phil Trem, President – Financial Advisory, at 440.392.6547.Subscribe to MarshBerry's Today's ViewPoint blog for the latest news and updates and follow us on social media.
---
1Data as of September 30, 2021 Source: MarshBerry proprietary database. Data compiled from transactions in which we were directly involved, those from which we have detailed information, and transactions in the public record. Numbers may not add due to rounding. Past performance is not necessarily indicative of future results. Individual results may vary.
2Specialty Distributors include wholesale brokers, program managers, managing general agents, managing general underwriters and general agents. Classifications are based on public information. Due to the subjective nature of these classifications, opinions may vary. Year to Date ("YTD") is as of September 30, 2021. All transactions are announced deals involving public companies, Private Capital backed brokers, private companies, banks as well as others including Private Capital groups, underwriters, specialty lenders, etc. All targets are U.S. only. This data displays a snapshot at a particular point in time and has not necessarily been updated to reflect subsequent changes in prior years, if any. MarshBerry estimates that historically, a low percentage of transactions were publicly announced, but we believe that this has risen to over 50% today. Source: S&P Global Market Intelligence, Insurance Journal, and other publicly available sources.
Investment banking services offered through MarshBerry Capital, Inc., Member FINRA Member SIPC and an affiliate of Marsh, Berry & Company, Inc. 28601 Chagrin Boulevard, Suite 400, Woodmere, Ohio 44122 (440.354.3230)