Over the last two weeks, six publicly traded insurance brokers reported earnings results for the third quarter of 2021: Arthur J. Gallagher (AJG), Aon plc. (AON), Brown & Brown, Inc. (BRO), BRP Group (BRP), Marsh & McLennan Company (MMC) and Willis Towers Watson (WLTW). Third quarter revenue results for five brokers came in ahead of consensus analyst estimates. In terms of adjusted Earnings Per Share, five brokers' results beat consensus analyst estimates, with one reporting in-line results. Overall results at these firms were driven by strong organic growth, a favorable economic environment, new business, and merger and acquisition (M&A) activity.
The stock performances of the publicly traded insurance brokers continue to be robust. Even as the major indices reached new highs, the insurance brokerage firms turned in an even better performance vs. the Dow Jones Industrial Average (DJIA).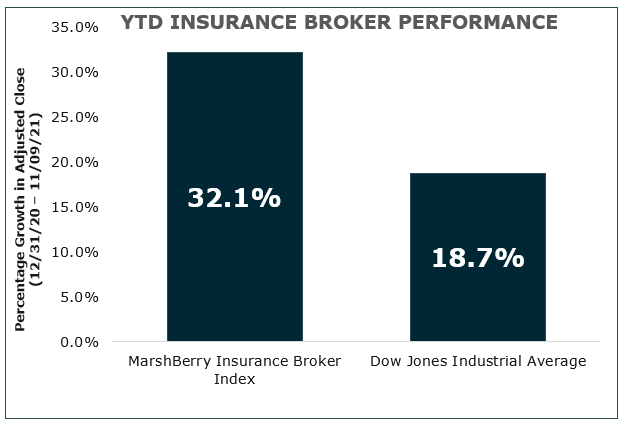 Year-to-date through November 9, 2021, MarshBerry's Insurance Broker Index, comprised of the daily closing prices for six publicly traded brokers, increased by 32.1%, while the Dow Jones Industrial Average rose 18.7%.
Here are some trends captured from the third quarter earnings reports.
Strong M&A Appetite: The M&A environment is still strong, partly driven by the levels of available capital and ongoing high valuations. Most brokers continue to be confident about their M&A strategy contributing to growth. For example, AJG mentioned on its 3Q21 earnings call that it had over 50 term sheets being signed and prepared (totaling approximately $400 million in annualized revenue). The firm noted it "will finish 2021 strong," with another successful year for its merger strategy. BRP said that acquisitions helped drive its 3Q21 growth and was confident that its M&A strategy was in place to meet its target of $100 to $150 million in revenue in 2022 while also achieving the high end of its acquired revenue target for 2021. BRO also saw continued high demand for M&A in insurance brokers.
Outlook: The reporting companies had generally optimistic outlooks tempered by concern over some macroeconomic conditions and more challenging comps in some cases as they begin to lap the early stages of pandemic recovery in late last year. Brokers commented on the increased risk from rising inflation and supply chain issues. For example, MMC was optimistic about the company's outlook and momentum, partly driven by execution and optimism around the economy. However, MMC also noted potential risks to future results from increasing inflation and supply chain issues.
Hiring and Talent: Firms stressed the importance and challenges around hiring the right talent to meet growth goals. BRP Group highlighted on its earnings call that it had about doubled its workforce in 2021 (through the end of third quarter) via organic hiring and partnerships. WLTW and AON saw some producer turnover impacting business (somewhat related to the failed merger between the two companies), though both companies have initiatives and strategies in place to correct the issue.
Pricing in Property & Casualty (P&C) and Excess & Surplus Markets: Many brokers noted that pricing continued to increase, although may in some cases be decelerating, and that this is expected through the end of the year. AJG commented that global P&C rates remained firm during 3Q21, with its CEO commenting: "As we look ahead over the coming quarters, I see the P&C market remaining difficult with rate increases persisting for quite a while. In the near term, we don't see any meaningful changes in carrier underwriting appetite capacity, attachment points or terms and conditions." MMC's global proprietary pricing index showed price increases of 15%, compared to the increases of 13% in 2Q21 and 18% of 1Q21. It was the 16th consecutive quarter of rate increases in the P&C insurance market.
In sum, the public brokers reported fairly strong 3Q21 results, a continuation from the prior quarter's performance. Most remained optimistic around achieving future growth goals, assisted by organic growth, improved productivity and talent, and acquisitions.
Subscribe to MarshBerry's Today's ViewPoint blog for the latest news and updates and follow us on social media.
---
MarshBerry continues to be the #1 sell side advisor in the industry (as ranked by S&P Global). If you're considering selling your firm, we are the best choice to help you through the complicated process. If you don't hire MarshBerry, hire a reputable advisor that can help you navigate one of the most important business decisions you will ever make. You will be much better off having an advisor in your corner that knows the industry than trying to do this on your own. Source: Yahoo Finance of 11/09/21 at close. BRP, BRO, AON, AJG, MMC, WLTW.
Investment banking services offered through MarshBerry Capital, Inc., Member FINRA Member SIPC and an affiliate of Marsh, Berry & Company, Inc. 28601 Chagrin Boulevard, Suite 400, Woodmere, Ohio 44122 (440.354.3230)
This earnings summary has been prepared by Marsh, Berry & Co., Inc. and is not intended to provide investment recommendations on any company. It is not a research report, as such term is defined by applicable laws and regulations, and it does not contain sufficient information upon which to make an investment decision. It is not to be construed as an offer to buy or sell or a solicitation of an offer to buy or sell any securities, financial instruments or to participate in any particular trading strategy. These materials are based solely on information contained in publicly available documents and Marsh, Berry & Co., Inc. has not independently attempted to investigate or to verify such information. Past performance is not necessarily indicative of future results.