The data and analytics for insurance brokers shows that the insurance distribution industry had another strong quarter in 2021, similar to when insurance brokers outperformed major indices in 2020, with six of the publicly traded brokers (Baldwin Risk Partners [BRP], AON plc [AON], Willis Towers Watson [WLTW], Marsh & McLennan Companies, Inc. [MMC], Arthur J. Gallagher & Co. [AJG] and Brown & Brown, Inc. [BRO]) reporting second quarter results that came in ahead of consensus analyst expectations. Results of the insurance broker data at these firms were largely driven by strong organic growth, an improving macroeconomic environment, mergers and acquisitions (M&A) and new business.
MarshBerry's Insurance Broker Index
Year-to-date through August 10, 2021, MarshBerry's Insurance Broker Index, comprised of the six publicly traded brokers, increased by 18.2%, while the Dow Jones Industrial Average rose 15.9% and the S&P 500 rose 18.2%.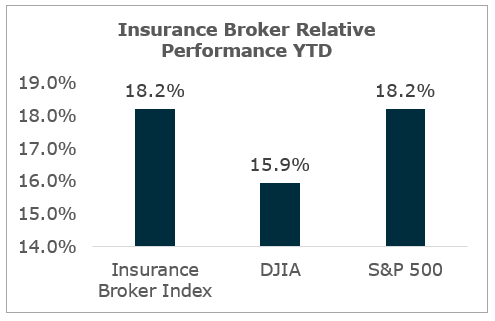 There were several themes that contributed to the business momentum that the insurance broker data demonstrated in the second quarter:
The continued improvement in economic conditions boosted business at the brokers. For example, AJG projected solid organic growth in its risk management business largely due to the rebound in economic activity and employment.
Continued tailwinds in the global Property & Casualty (P&C) market were another factor that contributed to favorable results and outlooks at insurance brokers. AJG noted that global P&C rates were firm across all geographics in the second quarter and saw premiums continuing to increase going forward. MMC sees pricing increase in the second half of 2021 but at a more moderate and measured pace for publicly traded insurance brokers.
Strategic partnerships are still contributing to growth at brokers, many of which still see M&A as a key component of their future expansion. BRP attributed some of the momentum across its business in the second quarter to positive contributions from new partnerships and noted that its M&A pipeline is robust. The company gave guidance for third-quarter organic growth above its target range of 10%-15%, citing strength across its business.
Organic Growth & Distribution Forecast Analysis
Going into the second half of the year, the large public insurance brokers were generally optimistic about organic growth prospects, favorable conditions in the P&C market, and the overall economic environment. Although several companies cited more challenging comparisons and increasing expenses in the second half of the year some, like WLTW, still project margin expansion for the full year and the long-term. MarshBerry continues to believe the insurance distribution industry has superior fundamentals and views the stock performance of the industry as indicative of its strength.
If you have questions about Today's ViewPoint, or about how to differentiate your firm in today's marketplace, please email or call John Wepler, Chairman and Chief Executive Officer at 440.392.6572.
Subscribe to MarshBerry's Today's ViewPoint blog for the latest news and updates and follow us on social media.
---
Source: Performance from 12/31/20 – 8/10/21. Yahoo Finance of 08/10/21 at close. Insurance Broker Index includes BRP, BRO, AON, AJG, MMC, WLTW. This information is not to be construed as an offer to buy or sell or a solicitation of an offer to buy or sell any securities, financial instruments or to participate in any particular trading strategy. These materials are based solely on information contained in publicly available documents and Marsh, Berry & Co., Inc. has not independently attempted to investigate or to verify such information. Past performance is not necessarily indicative of future results.
MarshBerry continues to be the #1 sell-side advisor in the industry (as ranked by S&P Global). If you're considering selling your firm, we are the best choice to help you through the complicated process. If you don't hire MarshBerry, hire a reputable advisor that can help you navigate one of the most important business decisions you will ever make. You will be much better off having an advisor in your corner that knows the industry than trying to do this on your own.
Investment banking services are offered through MarshBerry Capital, Inc., Member FINRA Member SIPC and an affiliate of Marsh, Berry & Company, Inc. 28601 Chagrin Boulevard, Suite 400, Woodmere, Ohio 44122 (440.354.3230).
This earnings summary has been prepared by Marsh, Berry & Co., Inc. and is not intended to provide investment recommendations on any company. It is not a research report, as such a term is defined by applicable laws and regulations, and it does not contain sufficient information upon which to make an investment decision.