Business Insurance recently published their annual report on the Top 100 Brokers, ranked by revenue, for 2020. It's no surprise that several members of the top 20 are still in the same spot they were last year – from a ranking perspective at least. However, what may come as a surprise are the number of changes when reviewing various aspects related to the largest brokers.
New Additions to the Top 100 Insurance Brokers
PCF Insurance Services (PCF), ranked 26th, is on the list for the first time with $235 million in revenue. While PCF is no stranger to sitting amongst the largest of their competitors, the investments from their new Private Equity (PE) sponsor have helped fuel inorganic growth. In 2020, PCF announced 27 acquisitions.
Oakbridge Insurance Agency, ranked 90th, was formed in 2019 through the combination of four firms in the Southeast with a total of $30.5 million in revenue. The formation created one of the largest privately-owned insurance, surety, risk management and employee benefits agencies in the Southeast.
With an average revenue growth of 11.1%, nine firms joined the elite 100 in 2021. These firms include The Liberty Co. Insurance Brokers Inc. (#75), R&R Insurance Services Inc. (#82), Ross & Yerger Insurance Inc. (#91), Swingle, Collins & Associates (#92), Gibson Insurance Agency Inc. (#96), Foa & Son Corp. (#97), EHD Insurance Inc. (#98), York International Agency LLC (#99), and Otterstedt Insurance Agency (#100).
Top 100 Brokers Total Revenue Over 10 Years
In 2010, the total amount of revenue for the top 100 insurance brokers was $22.5 billion. Fast forward to 2020 and the total amount of revenue is almost $50.5 billion which is more than double the total market share the top 100 brokers had just 10 years ago. Larger firms are gaining more and more market share as they drive organic growth and growth through acquisitions. When analyzing the top 100's share of Direct Commission and Direct Contingent revenue as reported by S&P, this group represented 41% of the market in 2010 and 61% of the market in 2020.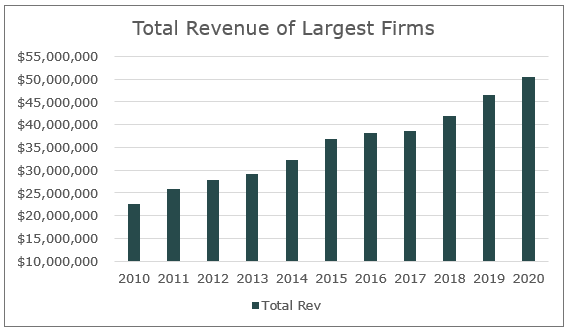 Consolidation in the Top 100 Insurance Firms
In 2020 alone, ten of the top 100 insurance brokers were acquired, representing more than $645 million in annual revenue. Consolidation in the insurance industry is nothing new and continues to be a growing trend. However, firms are getting creative and looking to other powerhouses for potential mergers to leverage scale. Creating a new national brokerage allows them to create their own blueprint while competing at a national or regional level.
While consolidation continues to infiltrate the industry the question becomes how big is too big? Many did not see the unraveling of the Aon plc (AON) and Willis Towers Watson (WLTW) merger. The firms recently announced the agreement to terminate their business combination and end litigation with the U.S. Department of Justice (DOJ). While the European Union approved the business combination, the U.S. DOJ filed a civil antitrust lawsuit arguing that AON's acquisition of WLTW could hinder competition and raise prices. Based on their combined 2020 revenue, their U.S. market share would have been just shy of $9.7 billion.
Looking Forward to Top 100 Insurance Brokers 2021
2021 is looking like it will be another year of record-breaking deals in the industry. The top 100 brokers 2021 are seeing greater investments from PE firms with several investors closing on some of the largest funds of all time. To date, 12 buy-outs and mega-funds (defined as any fund that has raised over $5 billion) have already closed this year according to PitchBook1. Hellman & Friedman Capital Partners, a majority investor in Hub International Limited, closed on Fund X with $24.4 billion raised and The Carlyle Group, majority investor in The Hilb Group, is reportedly set to close the largest private equity vehicle of all time at approximately $27.0 billion in capital. Capital will continue to be infused into one of the most resilient industries known to mankind and that capital will be used for more M&A to drive growth in market share across the largest brokers in the U.S.
If you have questions about Today's ViewPoint, or would like to learn more about the M&A marketplace, email or call Casey Pont, Vice President, at 440.392.6573.
Subscribe to MarshBerry's Today's ViewPoint blog for the latest news and updates and follow us on social media.
---
Sources: https://pitchbook.com/news/articles/mega-funds-private-equity-investing?sourceType=NEWSLETTER
Business Insurance Top 100 – all revenue figures and revenue-related metrics are based on information published by Business Insurance in its annual "100 Largest Brokers of U.S. Business" issue. This information is self-reported by brokerage submission and is not audited or verified by Business Insurance. The revenue reported is generated from U.S.-based clients, and to be eligible for inclusion in the report, brokerages must derive no more than 49% of their gross revenues from personal lines business. As the information is self-reported, Business Insurance publishes only the information that is reported to them.
MarshBerry continues to be the #1 sell-side advisor in the industry (as ranked by S&P Global). If you're considering selling your firm, we are the best choice to help you through the complicated process. If you don't hire MarshBerry, hire a reputable advisor that can help you navigate one of the most important business decisions you will ever make. You will be much better off having an advisor in your corner that knows the industry than trying to do this on your own.
Investment banking services offered through MarshBerry Capital, Inc., Member FINRA Member SIPC and an affiliate of Marsh, Berry & Company, Inc. 28601 Chagrin Boulevard, Suite 400, Woodmere, Ohio 44122 (440.354.3230)FINRA Member SIPC and an affiliate of Marsh, Berry & Company, Inc. 28601 Chagrin Boulevard, Suite 400, Woodmere, Ohio 44122 (440.354.3230)